Hisense takes the lead in implementing LED backlight standardization
It is predicted that the shipment of TV LED backlights in 2012 will be eight times that of mobile phone LED backlights.
Chinese LED backlight suppliers expect that domestic companies will become more competitive in the international market as they are selected to take the lead in standardization. At the end of 2009, the International Electrotechnical Commission's Flat Panel Display Technical Committee (IEC/TC110) annual meeting selected Hisense Group and Korean experts to draft detailed international standards. Other major local TV manufacturers are also planning to participate. The new standard will contain related terms and specifications, test methods and detailed descriptions. Some Chinese companies have previously participated in such work, specifically OLED and PDP. But this is the first time that domestic companies are leading. The manufacturer believes that this is not only an opportunity for the upgrading of industrial technology in the country, but also that China's international status has been affirmed.
Chinese TV and component suppliers will benefit from this, especially as LED backlights are now more widely used in TV panels. According to DisplaySearch, the LED backlight has a 3% share in the panel in 2009 and is expected to reach 10% this year. This trend is also reflected in the LED-backlit flat-panel TV. Displaybank data shows that such TV shipments are expected by the end of the year. More than 20 million units are expected to exceed 50 million units in 2012. According to these data, the backlight for LEDs will be eight times that of mobile phone LED backlights.
To this end, Chinese TV manufacturers expect annual sales of LED-backlit TVs to increase by 40% in the next few years. It is expected that LED backlight TV sales will increase from 3 million units this year to 10.8 million units in 2012. So far, many large manufacturers in China have launched such TV models, including domestic and foreign manufacturers such as Hisense, Skyworth, Konka, TCL, Samsung, Sony and Sharp.
Anhui expands FPD base
Anhui Province is striving to become China's flat panel display (FPD) production base and establish an international reputation within 5-10 years. To this end, the province passed the master plan of the China (Hefei) flat panel display industrial base, which allocated 64.5 square kilometers of land for this project. The first phase covers an area of ​​21 square meters.
Focus on the development of 8G TFT-LCD, Anhui is improving the new station development test area of ​​Hefei, the provincial capital. Cao Xiaowu, deputy director of the Anhui Provincial Economic and Information Commission, said that infrastructure construction has actually begun. By the end of the year, the overall investment is estimated to exceed $10.3 billion, compared to $4.1 billion in 2009, and the overall area will be expanded from 2 million square meters last year to 4.3 million square meters.
Downstream FPD and TV, as well as 8G glass substrate projects, will also scale up and build the industrial chain of the pilot zone this year. To date, many large TV providers have expressed interest in Hefei.
Beijing Jingdong Technology Group Co., Ltd.'s sixth-generation LCD screen production line (TFT-LCD6 generation line) project has been settled in the new station development test area in 2009. Anhui Xinyi Plasma Display Devices Co., Ltd. has also established a factory here, making Hefei the first city in China to have both liquid crystal and plasma production lines. Large factories such as Gaodai Glass Substrate Factory of Hefei Rainbow Glass Co., Ltd. have entered the test area. Hefei Lekai Industrial Park is also within the zone.
Affected by this, more than 10 upstream and downstream manufacturers have established factories in the experimental area. They will mainly produce backlights, light guides, chemicals, liquids, industrial water purification, SMT and automation equipment. Among them, there are many Fortune 500 companies, such as Sumitomo Chemical of Japan and Air Liquide.
In order to further promote industrial construction, Anhui Province will host an international seminar on China (Hefei) flat panel display industry this year. The move aims to attract domestic and foreign FPD companies and encourage them to invest in Hefei.
With the support of the central government, the domestic backlight industry is actively developing LEDs. With the joint efforts of the government and industry, eight national standards came into effect in April. These standards are issued by the Ministry of Information Industry and the National Standardization Administration, covering materials, chips, modules and test methods.
These standards include the performance requirements of LED modules for general lighting (GB/T 24823-2009), LED module test methods for general lighting (GB/T 24824-2009), DC or AC electronic control devices for LED modules (GB/T) 24825-2009), LED and LED module terminology and definition for general lighting (GB/T 24826-2009) and road and street lighting performance requirements (GB/T 24827-2009).
There are also LED module safety requirements for general lighting (GB 24819-2009), special requirements for DC or AC electronic control devices for LED modules (GB 19510.14-2009) and special requirements for connectors for LED modules (GB 19651.3-2008).
As LED technology continues to evolve, more performance and safety standards are expected to be introduced in the next few years. Similarly, industry insiders expect more companies to actively participate in the development of national and international standards.

Semi-harvester for Agriculture:

The semi-feeding harvester can complete the harvesting, delamination, separation of stems, removal of sundries and other processes at one time, and the Rice Harvester machine for obtaining grain directly from the field is mainly suitable for rice harvesting, wheat harvesting, and this reaper machine can adapt to deep mud feet. Under the serious harvest conditions, the grain cleanliness after harvest is very high, and at the same time, the stem integrity after harvest can be guaranteed, so that farmers can complete harvesting and granulation with a single operation, thus saving manpower and material resources and greatly reducing the burden of farmers.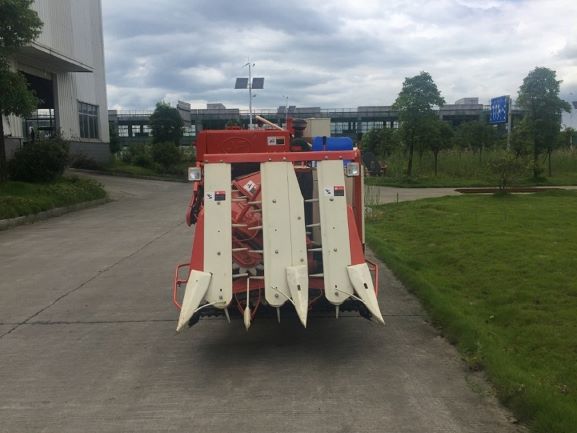 Semi-harvester for Agriculture Technical Parameters:
1. Size: 3650*1800*1820 (mm)
2. Weight: 1480KG
3. Engine Fuel: Diesel
4. Harvest numbers line: 3
5. Harvesting width: 1200 (mm)
6. Cutting height range: 50-150 (mm)
7. Threshing depth control system: Manually
8. Adaptation crop height: 650-1200 (mm)
If you have any questions, please contact us directly. Crawler tractor for agriculture are produced by Hunan Nongfu with high quality and good appearance.
welcome you can visit our factory for inquiry, please send mail directly to us.
Semi-harvester for Agriculture
China Harvester Machine, Rice Harvester, reaper machine, Agriculture equipment
Hunan NongFu Machinery&Electronic.Co., Ltd. , http://www.nfagmachine.com